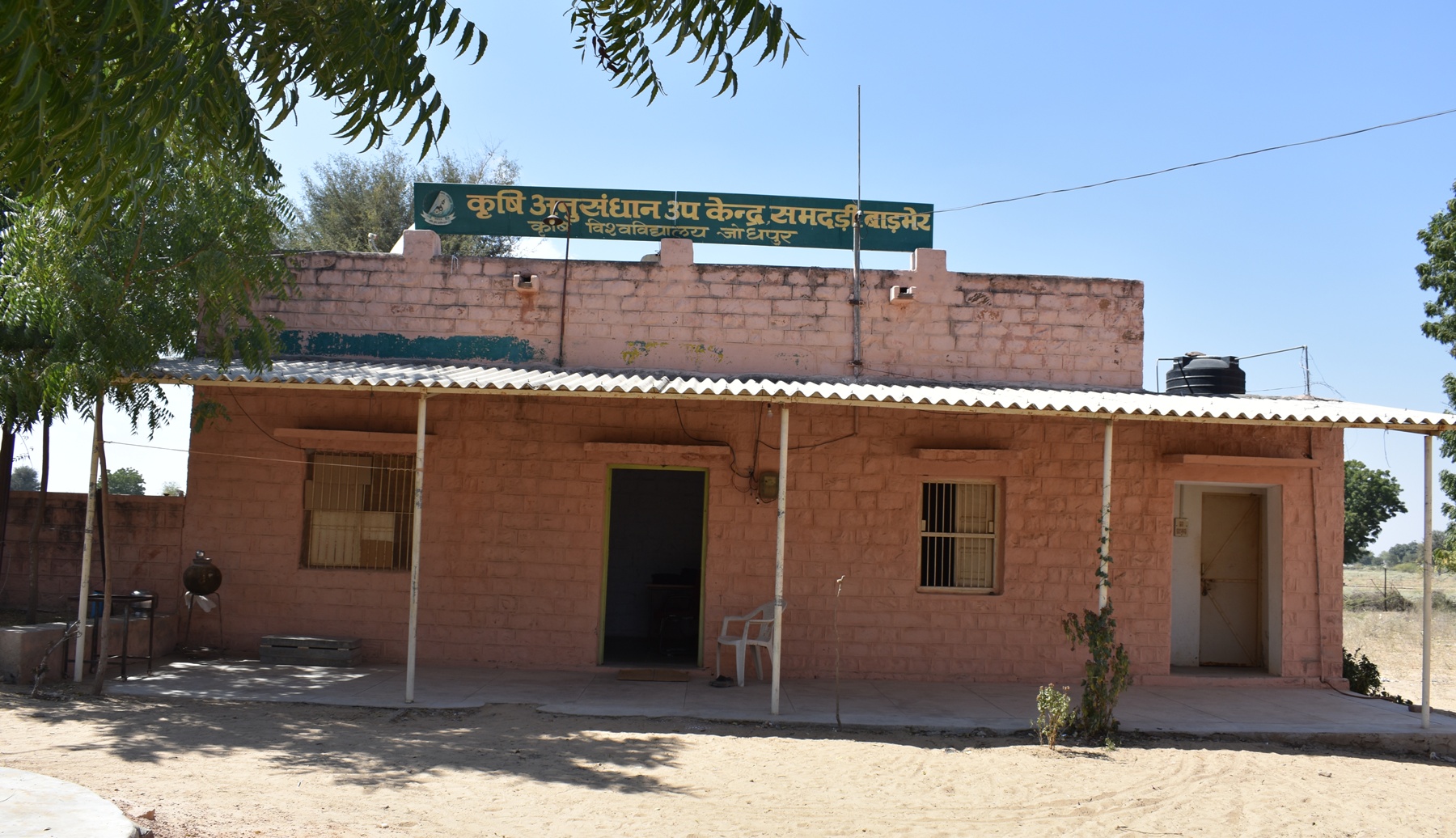 Agricultural Research Sub Station, Samdari, Barmer is working under the jurisdiction of Agriculture University, Jodhpur. It was established in 1998 by transfer of farm from Agriculture Department, Government of Rajasthan on basis of National Commission on Agriculture recommendation. This Sub Station was established with the objective of agricultural research and seed production in Arid Western Plain Zone (1A) of Rajasthan. ARSS- Samdari is situated on main railway line from jodhpur to Barmer and Bhiladi at about 129 km from Barmer district headquarter and 80 from Jodhpur.
Year of Establishment : 1998
Zone :

Zone I A (Arid Western Plains )

Aims and Objectives :

to develop cost effective technology, high yielding varieties along with addressing the conservation of natural resources of soil, water and vegetation by researches conducted at different locations under varied agro-climatic conditions.
---
Institutional area
0.5 ha
Farm land
28.25 ha
Administrative Building/ Block/Space
74 M2
Class Room and laboratories
-
Student Hostel for men and women
-
Institutional farm
18.0 ha
Green House
-
Farm Power, Farm Machines and Equipment and Irrigation Infrastructure
Tractor-1, Disc plough-1, Seed/fert drill-1
Facilities for sports, games, cultural and literary activities.
-
Any other important facility
Residential Qtrs 01 Nos (144 M2), Storage 01 (85.09 M2), Thressing floor 01 (540 M2)
Adoption of ICAR Norms and deviations, if any
Yes
Staff of Research Stations
| S.No. | Name | Designation |
| --- | --- | --- |
| 1 | Dr. Ramdev Sutaliya | Professor (Agronomy) |
| 2 | Dr. Surendra Kumar | Officer Incharge |
| 3 | Sh. Pusa Ram | Class –IV |
---
---