Dr. Sawai Dan Ratnoo , Director Research - Directorate of Research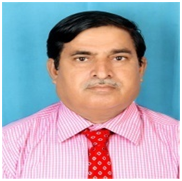 Born on 1stJuly 1965 at Basni Budha,Bhopalgarh, Jodhpur, Rajasthan, Dr. S.D.Ratnoo was obtained his B.Sc. Ag. (Honours) (1987) from Sukhadia University, Udaipur and M.Sc.(Ag) Entomology (1991) from Rajasthan Agricultural University, Bikaner; Ph.D Entomology (1995) from SKRAU, Bikaner. Dr. Ratnoo served as Assistant Professor& Chief Scientist cum Head (1996-2004) at KVK Jaisalmer; Associate Professor (2004-06) at KVK, Kumher and Zonal Director Research from May, 2006 to till date at ARS, Jalore & University HOD-Entomology from 2014 to till date.He joined Dean& Faculty Chairman, Collage of Agriculture, Sumerpur in June, 2017 to till date. He has published 79 research papers, 11 review papers, 34 technical bulletin/training/practical manuals, 04 book chapters, 30 recommendations included in POPs and 95 popular articles at national and international repute. Dr. Ratnoo is Master trainer of Entomology in Zone IIb.I presented 10 papers in symposia/seminars/conferences. He is having life membership of 05 professional societies. Prof. Ratnoo presently serving as Dean, College of Agriculture, Sumerpur; faculty Chairman, AU, Jodhpur; ZDR, ARS, Jalore and Officer Incharge of ARSS Sumerpur.
Mandates
To develop improved varieties/ hybrids of important field and horticultural crops.
To develop production and protection technologies to enhance crop productivity.
To develop water use technologies to increase water productivity in crop production.
To diversify the farming & land use system to enhance farm income.
Staff of Directorate of Research
| S.No. | Name | Designation |
| --- | --- | --- |
| 1 | Dr. Sawai Dan Ratnoo | Director Research |
| 2 | Dr. Sita Ram Kumhar | Director Research |
| 3 | Dr. Sawai Dan Ratnoo | Professor (Entomology) |
| 4 | Sh. Deepak Kumar Gujar | LDC |
| 5 | Sh. Gajendra Jat | Driver |
| S.No. | Name | Period |
| --- | --- | --- |
| 1. | Dr. G. N. Parihar | 19-10-2013 to 28-02-2014 |
| 2. | Prof. (Dr.) B. R. Choudhary | 01-03-2014 to 30-08-2019 |
| 3. | Dr. Sita Ram Kumhar | 31-08-2019 to 31-08-2021 |
| 4. | Dr. Ishwar Singh | 01-09-2021 to 26-09-2021 |
| 5. | Dr. Sawai Dan Ratnoo | 27-09-2021 to till date |
| 6. | Dr. Sita Ram Kumhar | 13-09-2023 to till date |
---
---