Foundation of COA, Nagaur under Agriculture University, Jodhpur was laid down based on the point 77 of 2015-16 budget declared by that time CM. Currently, first to fourth year B.Sc. (Hons.) Agriculture course and Post-graduation in Food Technology classes are running and 175 students are studying here. COA, Nagaur has its own building and other basic infrastructure facility. University has filled most of the teaching and non-teaching posts in the current academic year. However, guest faculties are engaged to teach courses for whom faculty is not available so that teaching can go smoothly.
| | | |
| --- | --- | --- |
| Intake capacity | : | 60 (B.Sc.) |
| Entrance of Students | : | through JET entrance test |
| Present Address | : | Bikaner Road, Near New JLN Hospital, Nagaur |
| Phone Number | : | 01582247525, 9462106525 (O) |
| Email address | : | coanagaur15@gmail.com |
Dr. S.R. Kumawat , Dean - College of Agriculture, Nagaur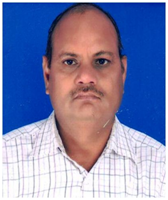 Born on 1st July 1969 at Macharkhani, Jobner, Jaipur. Dr Kumawat obtained his B.Sc. Agriculture (1991), M.Sc. Extension Education (1994) and Ph.D. Extension Education (2000) from SKN Collage of Agriculture Jobner under SKRAU, Bikaner.  Dr. Kumawat started his career as Technical Assistant in 1997 from ARS Sri Ganganagar and also worked at DEE, SKRAU, Bikaner from 2001 to 2005.  He served as Assistant Professor Extension Education (2005- 2013) at KVK Keshwana Jalore and (2013- 2018) at KVK Nagaur. He also takes additional Charge of Programme Coordinator KVK Jalore (2007-2013), OSD and Principal of Institute of Diploma in Agriculture Ladnun, Nagaur (2013-2016) and Senior Scientist and Head of KVK Nagaur (2016-2018). Dr Kumawat was promoted as Associated Professor in 2017 and Professor (Extension Education) in 2020 and posted as Associate professor (Extension Education) at Directorate of Extension AU Jodhpur (2018), Senior Scientist and Head at KVK Sirohi (2019) and at KVK Phalodi (2019-2022). He designs course content and regulation for Agriculture Diploma of three years (Six semester) duration, first time in Rajasthan (2013). He taught extension education courses at COA Nagaur, COA Mandor and COA Baytu (2016-2022). He organize as coordinator 09 district level farmers fair at KVK Jalore, Nagaur, Sirohi and Phalodi with participation of more than 1500 farmers & farm women in each fair and deliver 23 radio talks & TV talks. He conducted 607 trainings for farmers & farm women, 37 trainings for extension worker, 16 vocational training for rural youth (Nursery worker and Vermi-compost producer, Pasujankar, retail fertilizer dealers, ladies tailors etc.) and thirteen skill oriented trainings for farmers friends (Pera extension worker)  to infuse the concept of agriculture & horticulture in rural areas for diversifying the farming system for socio-economic security. He establish 16 demonstration units at various KVKs on fruit orchards, fruit cafeteria, Model Nursery, Rain water harvesting unit, Roof water harvesting unit, Crop Museum, Water softener, IFS Model, Crop Cafeteria, Ber and lime orchard etc.  He has published more than 120 publications including research papers, book chapters, books, popular articles, abstracts, folder, and bulletins. Dr Kumawat was facilitated as Best KVK Scientist award (2019) by Indian Society of Extension Education, New Delhi.
Staff of College of Agriculture, Nagaur
| S.No. | Name | Designation |
| --- | --- | --- |
| 1 | Dr. Ramdev Sutaliya | OSD |
| 2 | Dr. S.R. Kumawat | Dean |
| 3 | Dr. Mahesh Kumar Poonia | Professor (Horticulture) |
| 4 | Dr. S.R. Kumawat | Professor (Extension Education) |
| 5 | Dr. Suresh Kumar Khinchi | Associate Professor (Entomology) |
| 6 | Dr. Shourabh Joshi | Assistant Professor (Plant Biotechnology) |
| 7 | Dr. Shakti Singh Bhati | Assistant Professor (Nematology) |
| 8 | Dr. Hansa Lakhran | Assistant Professor (Agronomy) |
| 9 | Dr. Nisha Chaudhary | Assistant Professor (Food Technology) |
| 10 | Dr. Rekha Sodani | Assistant Professor (Plant Physiology) |
| 11 | Dr. Manju Kumari | Assistant Professor (Plant Pathology) |
| 12 | Dr. Ishwar Singh | Assistant Professor (Genetics and Plant Breeding) |
| 13 | Dr. Vikash Pawariya | Assistant Professor (Agricultural Economics) |
| 14 | Shri Jaipal Singh | Assistant Section Officer |
| 15 | Mr. Girdhari Lal | Agriculture Supervisor |
| 16 | Mr. Ratan Lal choudhary | Lab. Assistant |
| 17 | Mrs. Kanya | Lab. Assistant |
| 18 | Mr. Premraj Meena | Lab. Assistant |
| 19 | Sh. Bhanwara Ram Choudhary | Driver |
---
---