Foundation of COA, Nagaur under Agriculture University, Jodhpur was laid down based on the point 77 of 2015-16 budget declared by that time CM. Currently, first to fourth year B.Sc. (Hons.) Agriculture course and Post-graduation in Food Technology classes are running and 175 students are studying here. COA, Nagaur has its own building and other basic infrastructure facility. University has filled most of the teaching and non-teaching posts in the current academic year. However, guest faculties are engaged to teach courses for whom faculty is not available so that teaching can go smoothly.
| | | |
| --- | --- | --- |
| Intake capacity | : | 60 (B.Sc.) |
| Entrance of Students | : | through JET entrance test |
| Present Address | : | Bikaner Road, Near New JLN Hospital, Nagaur |
| Phone Number | : | 01582247525, 9462106525 (O) |
| Email address | : | coanagaur15@gmail.com |
Dr. Mahesh Kumar Poonia , Dean - College of Agriculture, Nagaur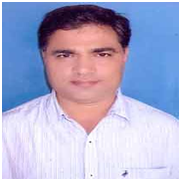 Born on 10th August 1973 at Ragha Chhoti, Rajgarh, Churu, Rajasthan, Dr. MK Poonia obtained B. Sc. (Hons) Agriculture (1996) and M. Sc. (Ag) Horticulture (1998) from Rajasthan Agricultural University, Bikaner and Ph.D (Ag.) Horticulture (2003) from Maharana Pratap University of Agriculture & Technology, Udaipur. Dr. MK Poonia served as Assistant Professor (2005-2013) at MPUA&T, Udaipur and Agriculture University, Kota. He joined as Associate Professor (Horticulture) in April, 2018 and OSD cum Dean, College of Agriculture, Nagaur in June, 2018. Dr Poonia has made outstanding contribution in dissemination of technologies through extension service. He has published 35 research papers, 02 review papers, 08 technical bulletins, 09 training manuals, 22 folders, 20 popular articles and 10 papers in symposia/seminars/conferences. Dr. Poonia was team member of Best KVK award of Zone-II (2017) and ICAR cashless award of KVK (2017) and University also recognised for sanctioned a project as a Project Invigilator of more than Rs. 40.0 lacs. He is having life membership of 03 professional societies viz; The Horticultural society of India, Society for Promotion of Horticulture and Hi-Tech Horticultural Society (Meerut). Dr. Poonia has also delivered 40 Radio talks on Akashwani in different horticulture aspects.
Staff of College of Agriculture, Nagaur
| S.No. | Name | Designation |
| --- | --- | --- |
| 1 | Dr. Mahesh Kumar Poonia | Dean |
| 2 | Sh. Kan Singh Rathore | Associate Professor (Extension Education) |
| 3 | Dr. Mahesh Kumar Poonia | Associate Professor (Horticulture) |
| 4 | Dr. Vikash Pawariya | Assistant Professor (Agricultural Economics) |
| 5 | Dr. Ishwar Singh | Assistant Professor (Genetics and Plant Breeding) |
| 6 | Mr. Shakti Singh Bhati | Assistant Professor (Nematology) |
| 7 | Dr. Hansa Lakhran | Assistant Professor (Agronomy) |
| 8 | Dr. Nisha Chaudhary | Assistant Professor (Food Technology) |
| 9 | Dr. Rekha Sodani | Assistant Professor (Plant Physiology) |
| 10 | Dr. Manju Kumari | Assistant Professor (Plant Pathology) |
| 11 | Miss. Vandna | Lab. Assistant |
| 12 | Mrs. Kanya | Lab. Assistant |
| 13 | Mr. Girdhari Lal | Agriculture Supervisor |
| 14 | Mr. Premraj Meena | Lab. Assistant |
| 15 | Mr. Ratan Lal choudhary | Lab. Assistant |
| 16 | Miss Rekha Kumawat | Clerk Grade –II |
| 17 | Sh. Bhanwara Ram Choudhary | Driver |
| 18 | Mr. Praveen Kumar | Driver |
---
---