Dr. Ummed Singh , Director Prioritization, Monitoring & Evaluation - Directorate of Prioritization, Monitoring & Evaluation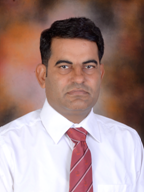 Prof. Ummed Singh obtained BSc (Honours) Agriculture (1998) and MSc (Ag) Agronomy (2000) from Rajasthan Agricultural University, Bikaner; PhD Agronomy (2005) from IARI, New Delhi; and Post Doctorate (2011) from Nanjing Agricultural University, Nanjing, P R China. Prof. Singh served as Assistant Professor-cum-Jr Scientist (2005-2012) at SKUAST-K, Srinagar; Senior Scientist (2012-18) at ICAR-IIPR, Kanpur; Dean, College of Agriculture, Jodhpur (2018-19). He joined as Professor (Agronomy) in April, 2018 at College of Agriculture, Agriculture University, Jodhpur. Prof. Singh has made outstanding research contribution in the field of Biofortification, Cropping Systems Research and Plant Nutrition. He has published 51 research papers, 12 review papers, 11 technical bulletin/training/practical manuals, 18 book chapters, 1 book, 64 popular articles, 1 conference souvenir, 18 proceeding/lead papers and presented 46 papers in symposia/seminars/conferences. Prof. Singh was conferred IMPHOS-FAI Award (2013), SHRIRAM PURUSKAR (2013-14), Innovative Scientist of the Year (2014), SERS Fellow (2015), Indian Society of Agronomy Associateship (2015), Reviewer Excellence Award (2016), ISPRD Fellow (2016) and Distinguished Scientist Award (2017). He is having life membership of 11 professional societies. Prof. Singh is having international exposure and visited to the countries viz; P R China, Malaysia, Hong Kong, Thailand, United Arab Emirates and United States of America.
Mandates
The following duties and functions exercised by the Directorate of Prioritization, Monitoring and Evaluation:
Preparation of the perspectives developments plan of the University and evaluations of existing programmes /projects of the University in consultation with the concerned officers of the University.
Preparation of all such documents as may be necessary for getting the accreditation of the University by competent bodies.
Plan for the effective utilization of all resources of the University i.e. man power, material and money and monitor the same.
Maintain and operate information bureau for all aspects of the University i.e. establishment, resources, finances, land, movable property etc.
Plan and monitor adequacy of revenue and expenditure in the budget in consultation with the Comptroller.
Prepare and publish the Annual Report and University Newsletters etc.
Countersign TA bills and sanction leaves and taking disciplinary action as per powers delegated of the employees working under him/her.
Any other duties/functions as may be assigned by the Vice-Chancellor.
Staff of Directorate of Prioritization, Monitoring & Evaluation
| S.No. | Name | Designation |
| --- | --- | --- |
| 1 | Dr. Ummed Singh | Director Prioritization, Monitoring & Evaluation |
| 2 | Dr. Pankaj Lavania | Assistant Director |
| S.No. | Name | Period |
| --- | --- | --- |
| 1. | Dr. G.S. Rathore | 18-10-2013 to 04-05-2016 |
| 2. | Dr. S.S. Solanki | 05-05-2016 to 31-08-2016 |
| 3. | Dr. Ishwar Singh | 01-09-2016 to 03-11-2016 |
| 4. | Dr. Balwant Singh Rajpurohit | 04-11-2016 to 29-02-2020 |
| 5. | Dr. Ummed Singh | 01-03-2020 to till date |
---
---