Dr. B. S. Bhimawat , Director Education - Directorate of Education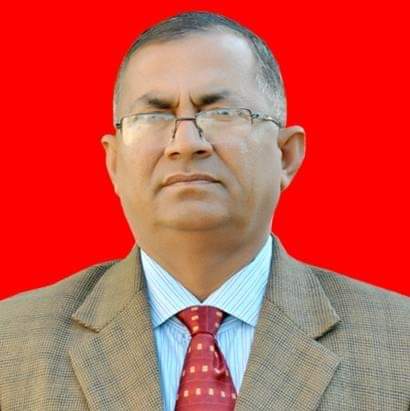 Dr. B. S. Bhimawat was born in Sedaria, District- Pali (Rajasthan) on 3rd August, 1961. He obtained his bachelor, M. Sc. And Ph.D. degree from Rajasthan College of Agriculture, Udaipur. He started working in state department of agriculture and travelled almost all positions from Asstt. Prof., Assoc. Prof., Programme coordinator (Selected) KVK, University Head extension department, Dean & Faculty Chairman of the University etc. Remained member Board of Management, Academic council, Officer Incharge ARSS and many other important posts like games in-charge, hostel warden, Project Director ATMA and Vice president of University teachers' association for more than 10 years. He has supervised 7 M. Sc., 5 Ph.D. and 35 PG DRD students for their respective degree. He has published Course Curriculum, Self Study Report, Act and Statutes, Information Bulletin of the Agriculture University, Jodhpur and many research papers, books, technical bulletins, popular articles, folders and chapters in books. He received National level Life time award in 7th National Extension Education Congress-2014 at ICAR Research Complex, Umiam, Meghalaya from 8-11th November, 2014 and also Hon'ble Vice-Chancellor, Agriculture University, Jodhpur awarded and honoured to Dr. B. S. Bhimawat for his outstanding performance in 2016. Presently, he is working as Faculty Chairman Agriculture, Food and Dairy Technology and Agriculture Engineering, Agriculture University, Jodhpur. He is also working as Director Education, Agriculture University, Jodhpur and Nodal Officer, ICAR. He is Principal Investigator, NAHEP and SC-SP national level prestigious projects given to Agriculture University, Jodhpur by ICAR.
Mandates
Develop academically qualified human resource through UG, PG, Ph.D. and other academic programmes in different branches of agriculture & allied branches of learning and scholarship.
To provide highest standard of education in Agriculture and allied sciences so as to become job provider than job seeker.
Staff of Directorate of Education
| S.No. | Name | Designation |
| --- | --- | --- |
| 1 | Dr. B. S. Bhimawat | Director Education |
| 2 | Dr. Krishna Saharan | Assistant Director |
| 3 | Dr. U.N. Shukla | Assistant Director |
| S.No. | Name | Period |
| --- | --- | --- |
| 1. | Dr. S.S. Solanki | 18-10-2013 to 31-08-2016 |
| 2. | Dr. Ishwar Singh | 01-09-2016 to 03-11-2016 |
| 3. | Dr. Balwant Singh Rajpurohit | 04-11-2016 to 13-02-2019 |
| 4. | Dr. Sita Ram Kumhar | 14-02-2019 to 06-05-2020 |
| 5. | Dr. B. S. Bhimawat | 06-05-2020 to till date |
---
---