College of Agriculture, Sumerpur was established on 4th August, 2012 under Swami Keshwanand Rajasthan Agricultural University (SKRAU), Bikaner to address the issue of shortage of trained manpower (Human Resource) in the discipline of agriculture in the marwar area of Rajasthan. The college of Agriculture, Sumerpur was started with its inauguration in the existing building of Agricultural Research Sub Station (ARSS), Sumerpur. Since September 14, 2013, College of Agriculture, Sumerpur became a constituent part of Agriculture University, Jodhpur with the establishment of Agriculture University, Jodhpur. Presently the college is run in the building of ARSS, Sumerpur and 25 ha out of 46.5 ha land of ARSS, Sumerpur is being used as college farm. Teachers are available for few subjects like Agronomy, Soil Science, Plant Breeding, Ag. Economics and Ag. Extension. Teaching faculties for rest of subjects are arranged by engaging guest faculties.
| | | |
| --- | --- | --- |
| Intake capacity | : | 60 (B.Sc.) |
| Entrance of Students | : | through JET entrance test |
| Present Address | : | Sumerpur, Dist.-Pali, Rajasthan |
| Phone Number | : | 02933-258776, 258475 |
| Email address | : | coasumerpur@gmail.com |
Dr. Sawai Dan Ratnoo , Dean - College of Agriculture, Sumerpur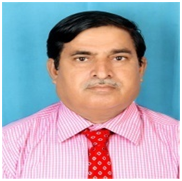 Born on 1stJuly 1965 at Basni Budha,Bhopalgarh, Jodhpur, Rajasthan, Dr. S.D.Ratnoo was obtained his B.Sc. Ag. (Honours) (1987) from Sukhadia University, Udaipur and M.Sc.(Ag) Entomology (1991) from Rajasthan Agricultural University, Bikaner; Ph.D Entomology (1995) from SKRAU, Bikaner. Dr. Ratnoo served as Assistant Professor& Chief Scientist cum Head (1996-2004) at KVK Jaisalmer; Associate Professor (2004-06) at KVK, Kumher and Zonal Director Research from May, 2006 to till date at ARS, Jalore & University HOD-Entomology from 2014 to till date.He joined Dean& Faculty Chairman, Collage of Agriculture, Sumerpur in June, 2017 to till date. He has published 79 research papers, 11 review papers, 34 technical bulletin/training/practical manuals, 04 book chapters, 30 recommendations included in POPs and 95 popular articles at national and international repute. Dr. Ratnoo is Master trainer of Entomology in Zone IIb.I presented 10 papers in symposia/seminars/conferences. He is having life membership of 05 professional societies. Prof. Ratnoo presently serving as Dean, College of Agriculture, Sumerpur; faculty Chairman, AU, Jodhpur; ZDR, ARS, Jalore and Officer Incharge of ARSS Sumerpur.
Staff of College of Agriculture, Sumerpur
| S.No. | Name | Designation |
| --- | --- | --- |
| 1 | Dr. R. K. Rathore | Assistant Professor (Genetics and Plant Breeding) |
| 2 | Dr. Shourabh Joshi | Assistant Professor (Plant Biotechnology) |
| 3 | Shri Mahesh Kumar Vaishnav | Assistant Section Officer |
| 4 | Dr. Sawai Dan Ratnoo | Dean, Professor (Entomology) |
| 5 | Dr. Hanuman Prasad Parewa | Assistant Professor (Soil Science and Agricultural Chemistry) |
| 6 | Dr. M. P. Verma | Assistant Professor (Animal Production) |
| 7 | Dr. Phool Chand Meena | Assistant Professor (Agricultural Economics) |
| 8 | Mr. Lokesh Kumar Jain | Assistant Professor (Agronomy) |
| 9 | Dr. Suresh Chand Meena | Assistant Professor (Plant Pathology) |
| 10 | Dr. Dinesh Kumar | Assistant Professor (Mathematics) |
| 11 | Dr. Richa Sachan | Assistant Professor (Extension Education) |
| 12 | Sh. Laxman Singh Balot | Technical Assistant |
| 13 | Sh. AnirudhChoudhary | Lab. Assistant |
| 14 | Sh. Yogendra Kumar Budania | Lab. Assistant |
| 15 | Sh. Kailash Chandra Tada | LDC |
| 16 | Sh. Lala Ram Jat | Agriculture Supervisor |
| 17 | Sh. Shivpal Singh | Class –IV |
| 18 | Sh. Sona Ram | Class –IV |
---
---